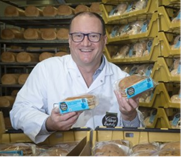 Master baker Robin Jones is managing director of the Village Bakery, one of the UK's most successful bakeries. The Wrexham firm makes premium breads, morning goods, savouries and bespoke products for major supermarket companies in the UK, along with a rapidly-growing export market.

The family-run bakery has won a host of awards for its mouth-watering products and Robin was named as British Baker of the Year in 2010. The long list of accolades also includes Robin being honoured in the Enterprise Category of the prestigious St David's Awards and being named as Businessperson of the Year by the Daily Post.

The Village Bakery has won a new legion of fans for the way it's bouncing back after a devastating fire last August. Things looked bleak when the blaze destroyed its head office, a state-of-the art bakery, the pioneering Baking Academy and cutting edge development kitchen. Luckily, nobody was hurt and undaunted the staff and management of the family firm vowed to come back stronger. Staff responded magnificently and production was ramped up at the other three bakeries to maintain supplies to their customers. Meanwhile, a new super bakery, the most modern in Europe, is being built to replace the old one and increase capacity.

Thirty of the staff displaced by the fire are making a new range of American-style bagels for a well-known retailer and the company has started supplying new customers in Iceland, Malta and Cyprus with Welsh batch loaves, rolls, pancakes, crumpets and Welsh Cakes.
Watch this space!
Robin Jones
Managing Director, Village Bakery